JUST launched at Butler & Wilson the Art Deco collection offers vintage class and elegance to those who wear any of an array of stunning pieces.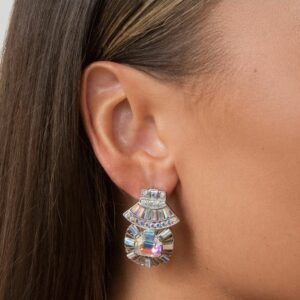 The collection exudes the rich design heritage of more than 50 years and is synonymous with pioneering art deco jewellery styles as well as bold and beautiful statement pieces and delicately sparkling designs. All of the current collection feature a mix of baguette and multi-coloured or clear Austrian crystals, forming the perfect backdrop for jewellery that continues to transcend time since first appearing in the late 19th and early 20th centuries.
Shop the collection of opulent art deco earrings glittering rings, bracelets, necklaces and brooches online at https://www.butlerandwilson.co.uk or in the original Fulham Street, London store and transcend time with heritage pieces to keep forever along with fine fashion and jewellery in crystal and semi-precious stones and statement accessories.
Tags: Fashion Jewellery Accessories Arts & Culture
Image credits: Butler & Wilson