Really for fabulous fashion? There are no basics here. Let's explore the artistry and creativity that define Toyko Fashion Week.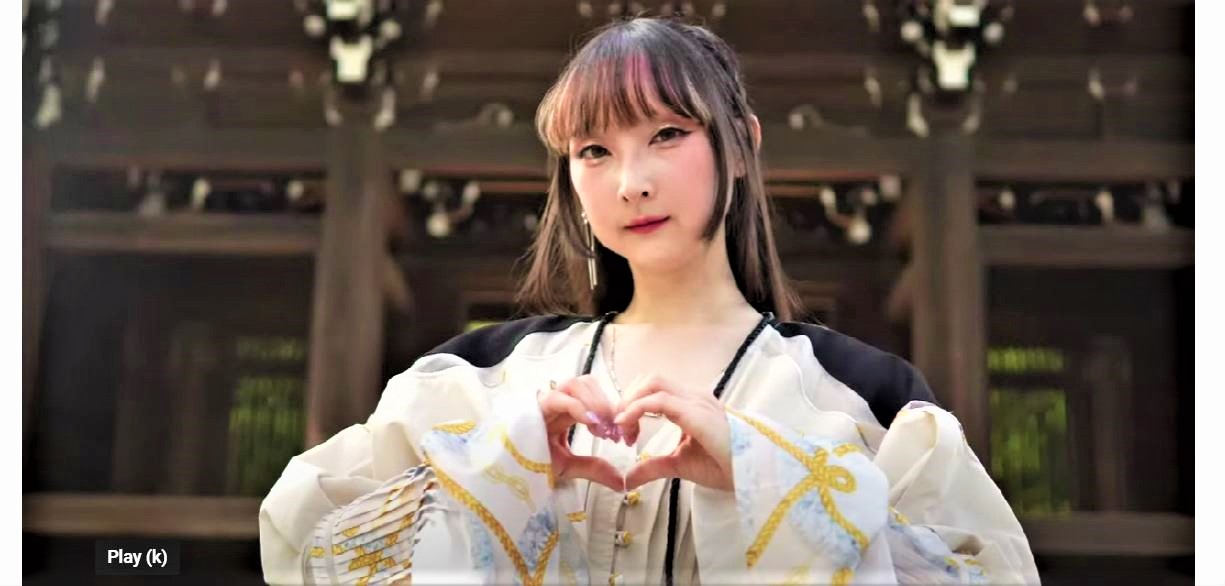 Renaissance inspired fantasy dressing from Taiwanese Seivson brand. Image captured from the Youtube video.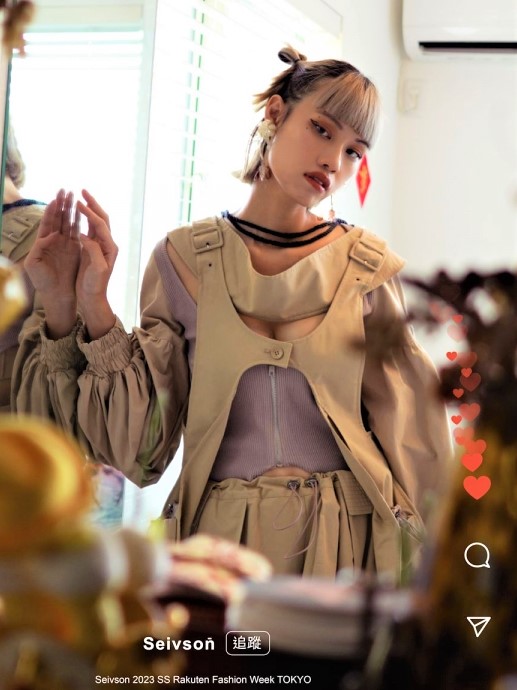 Tzu Chin Shen is the talented designer of Seivson. Layers of intricate tailoring and irreverent fashion concepts define the label.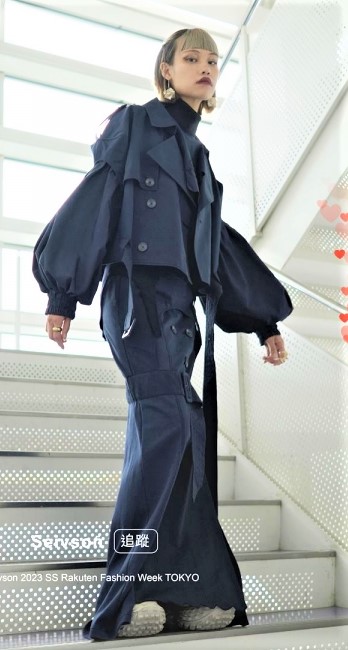 Stunning balloon sleeved jacket coordinated with maxi length straight skirt, possibly based on the hobble skirt, which was popular between 1908 and 1914. As the hobble skirt impeded a women's stride, is the designer making a statement toward women's rights? Seivson.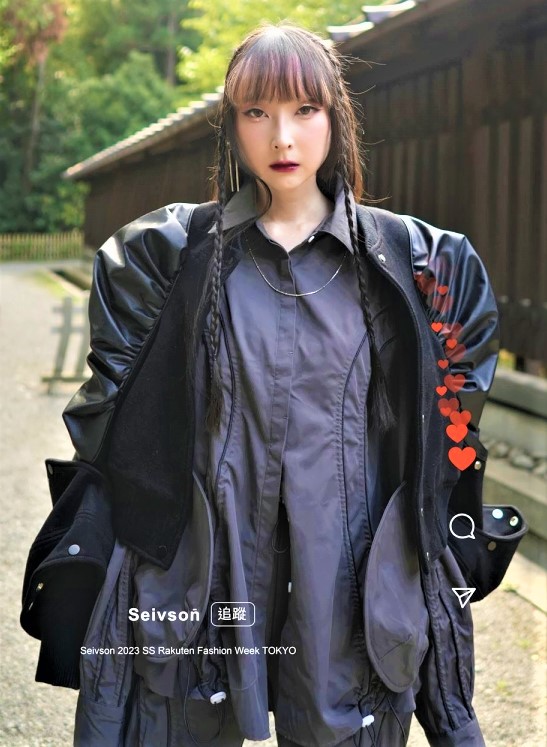 Seivson. Ruched leather jacket coordinated with skillfully crafted suit.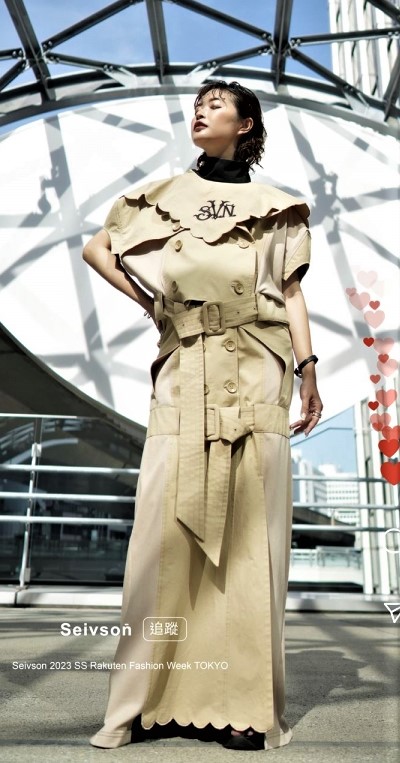 Seivson version of a contemporary scalloped trench coat.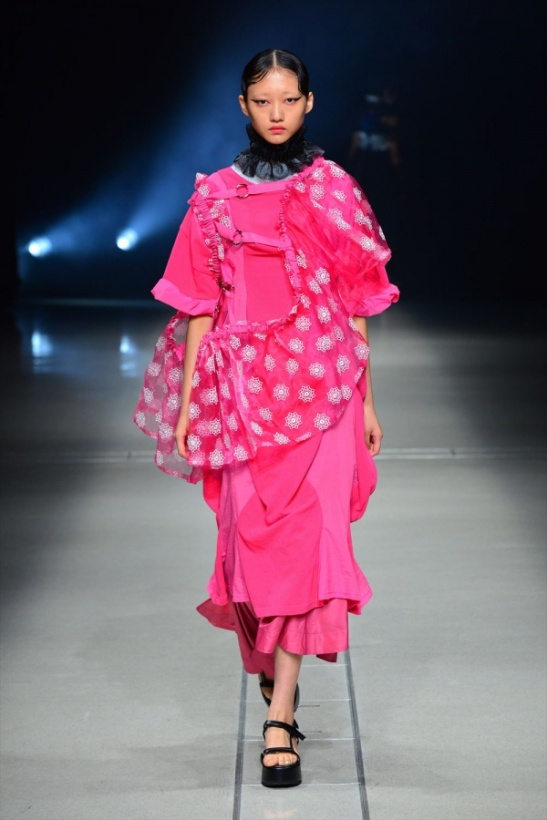 Dramatic draped polka dot ruffles. Magenta continues to perform into 2023. Visionary designer Moe Ishida established her RTW brand Houga in 2018.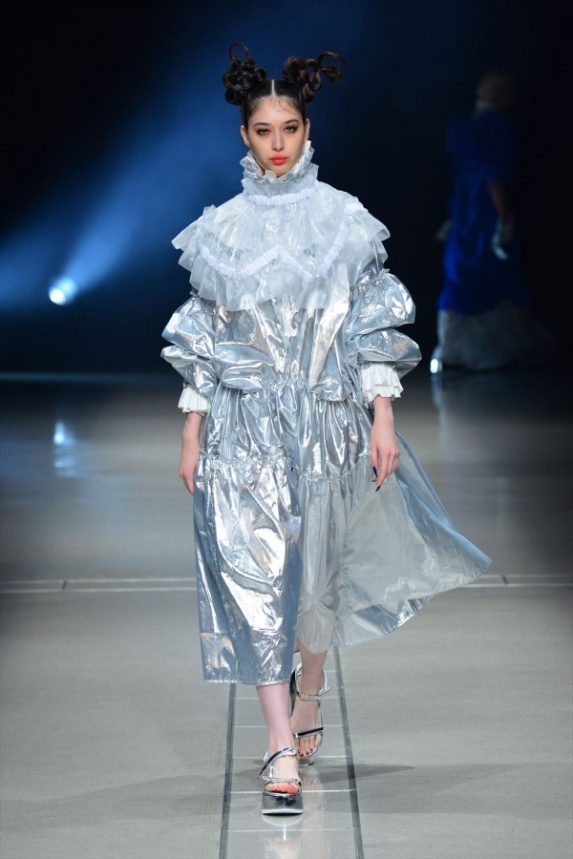 Metallic maiden. Houga.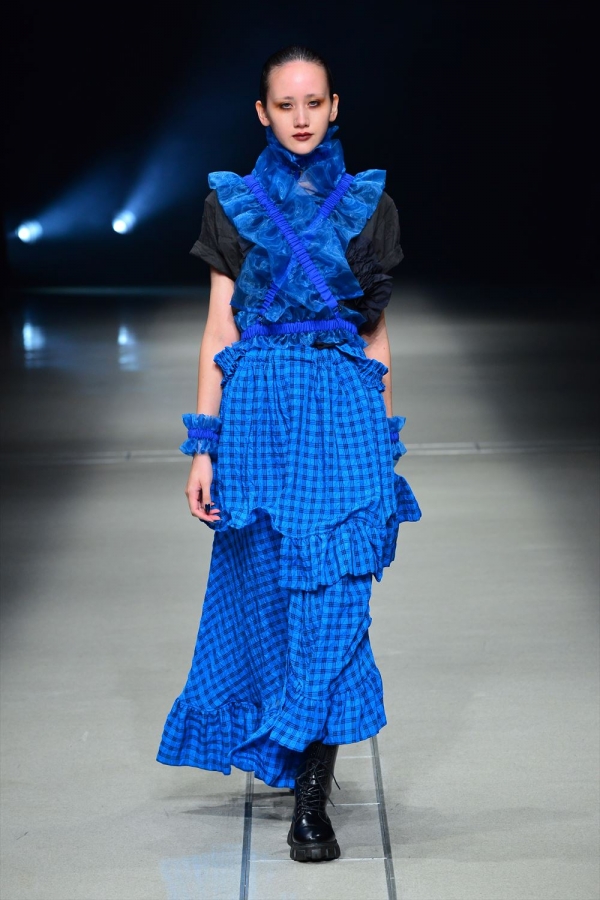 "Little House on the Prairie" goes contemporary Japanese with a gingham tiered skirt. Houga.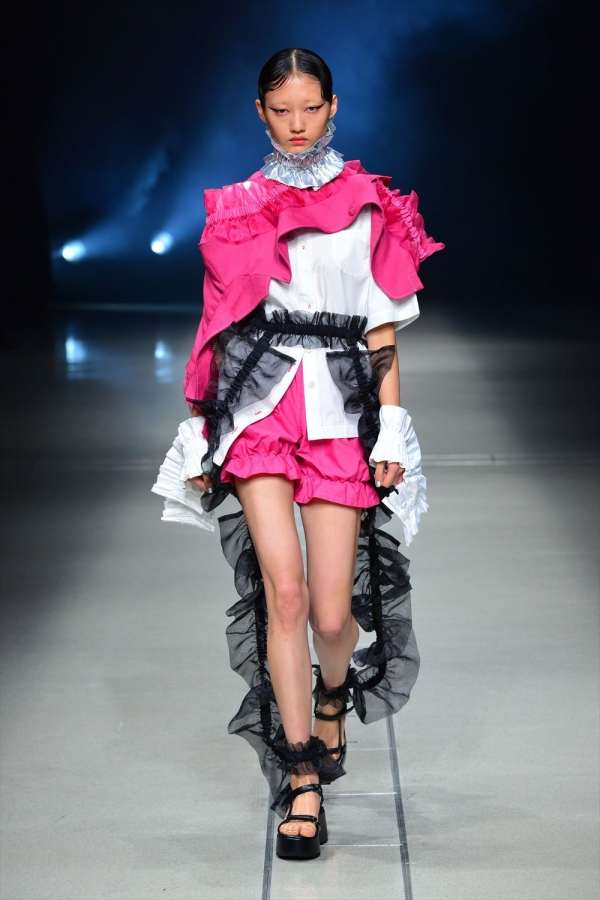 Mini magenta bloomers and ankle length ruffles. How can you resist? Houga.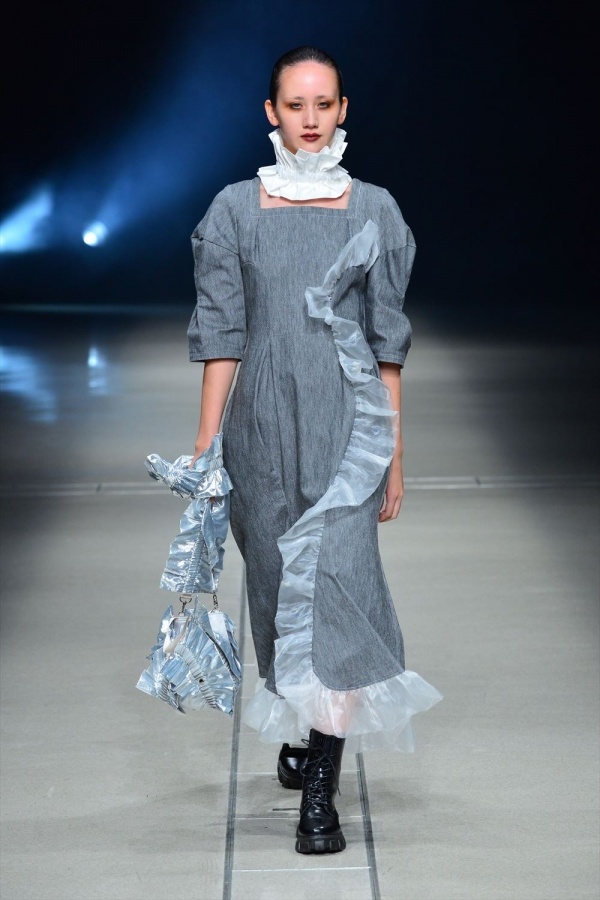 Paired down with a touch of tulle. Houga.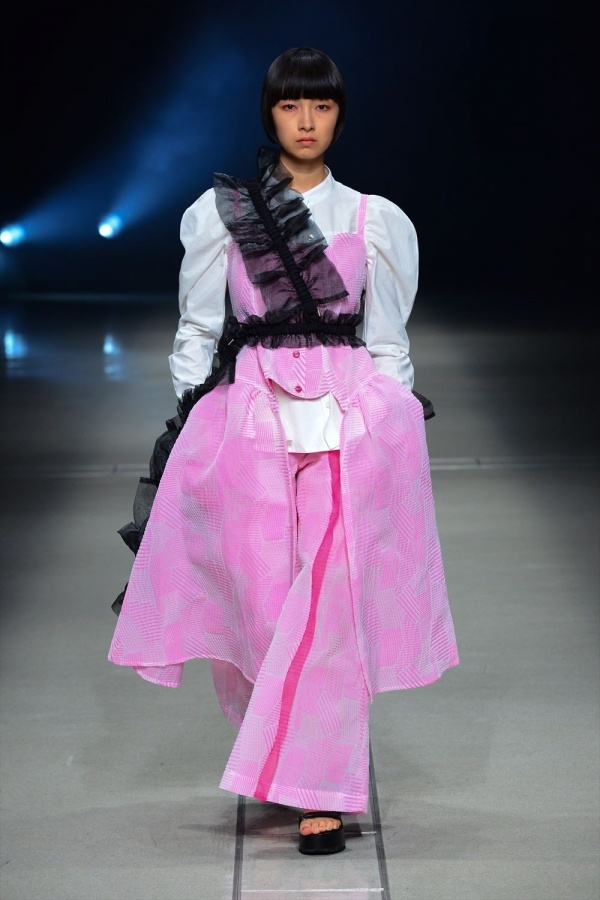 Houga. Translucent pink trousers and overskirt accented in black tulle creates a striking ensemble. Watch the lovely runway show here.
Keiichiro Sense brand by designer Keiichiro Yuri. Futuristic ensemble to celebrate the future of fashion.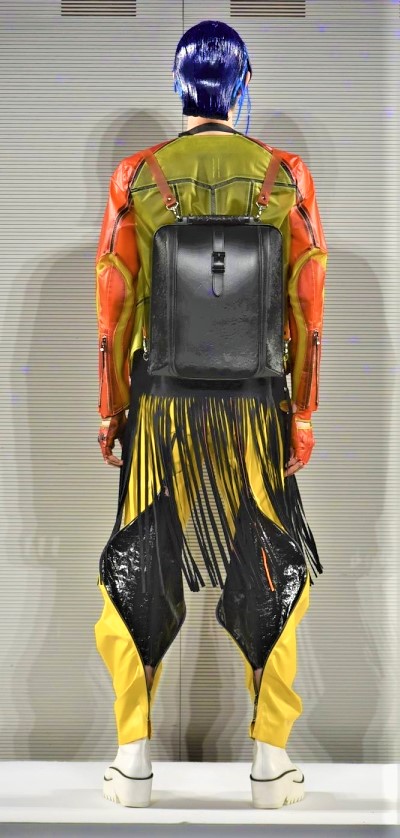 Look amazing coming or going. Keiichiro Sense.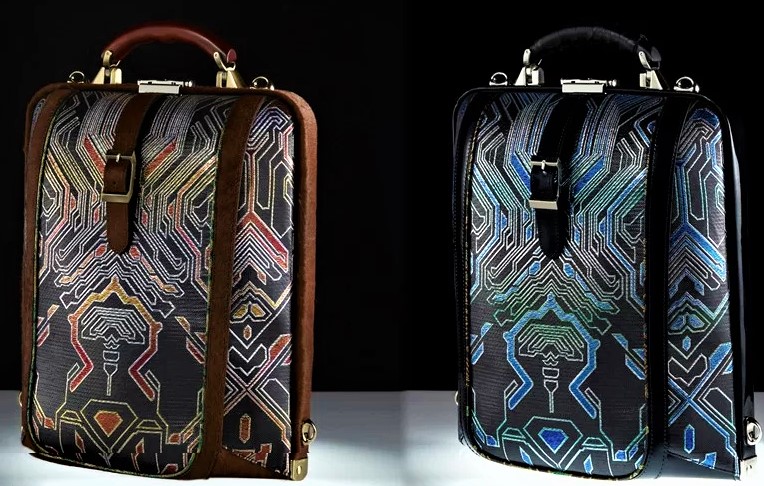 Glorious leather trimmed bags by Keiichiro Sense.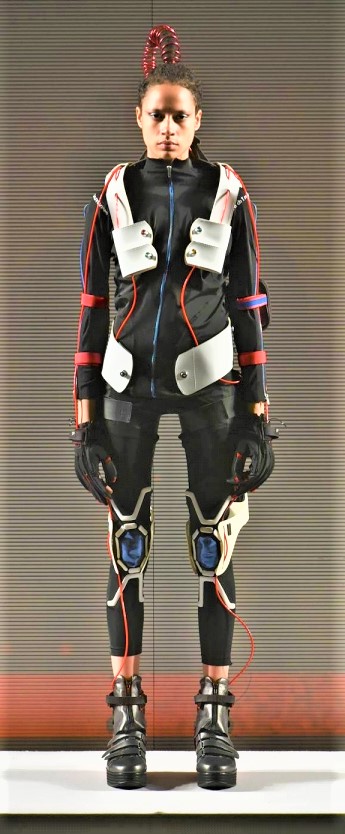 Originally based on Japanese anime, this cosplay styled industrial ensemble is a type of performance art. Keiichiro Sense.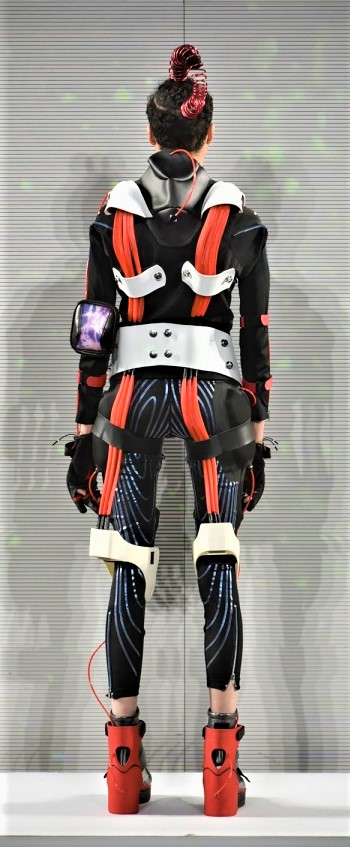 While the entire ensemble may be a tad avant-garde for you, find the elements that you just might love to wear. Check out the leggings with silver detailing that give the impression of circuits on a Motherboard. By Keiichiro Sense. Watch the entire runway show here on Youtube.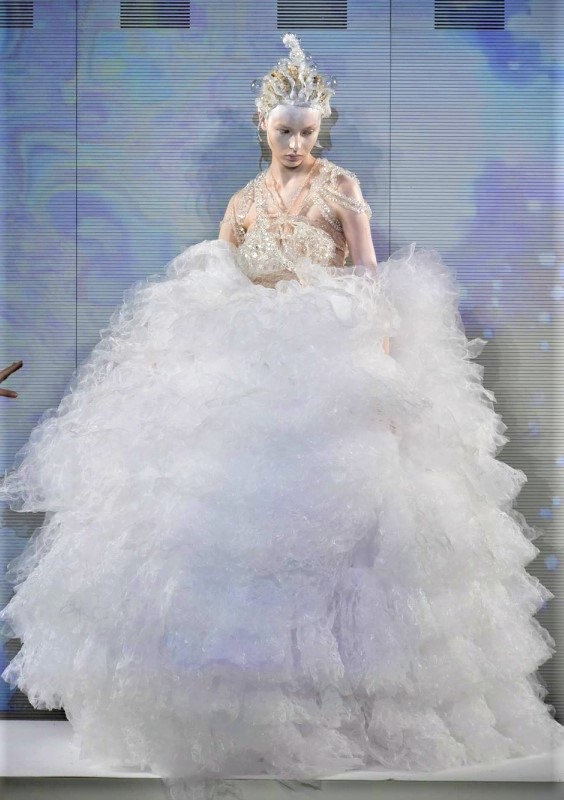 Keiichiro Sense. Here comes the futuristic bride.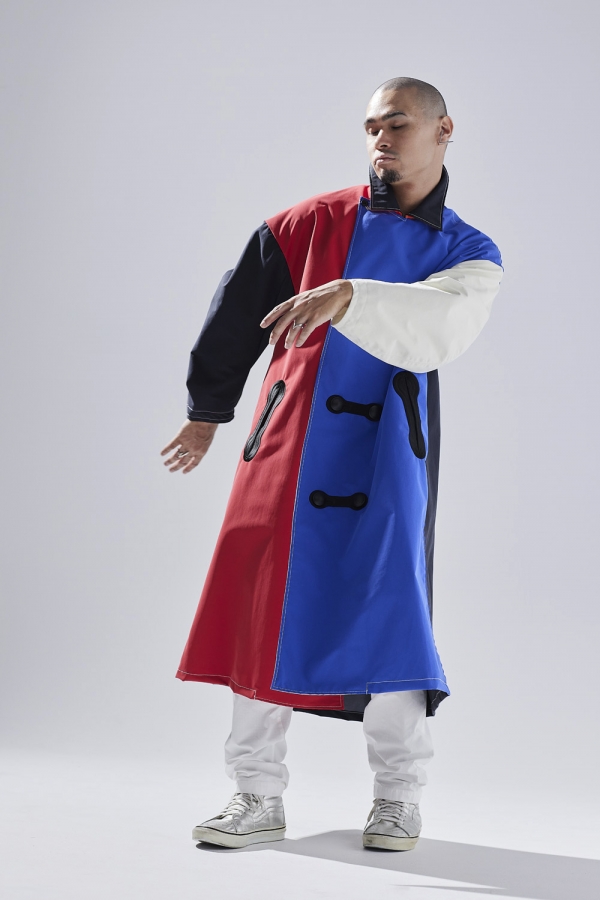 Spirited outerwear brand Megmiura for men and women. Bold colors, attention grabbing cuts and a confident attitude take this label to the next level.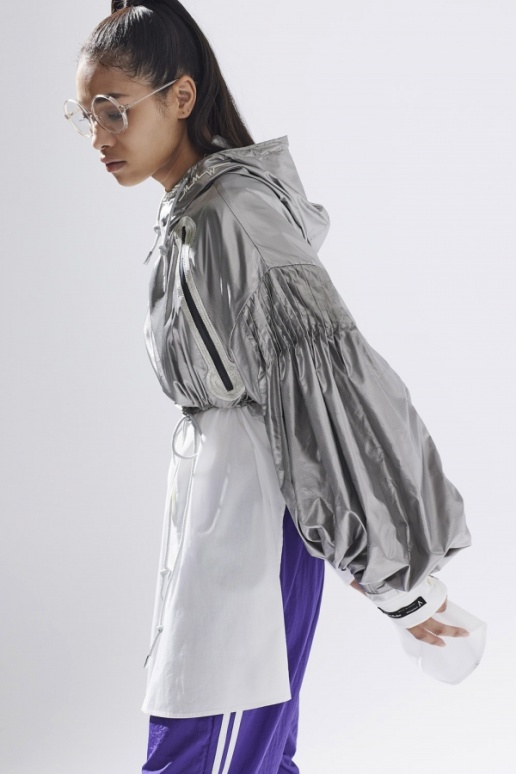 Megmiura. Cropped silver jacket with ruched and gathered balloon sleeves.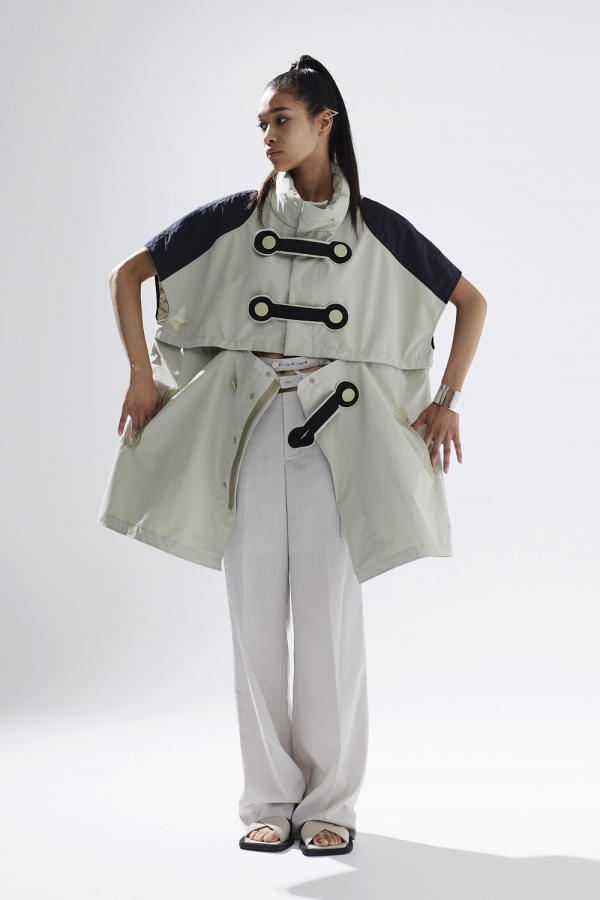 Megmiura. Rain slicker with updated toggles.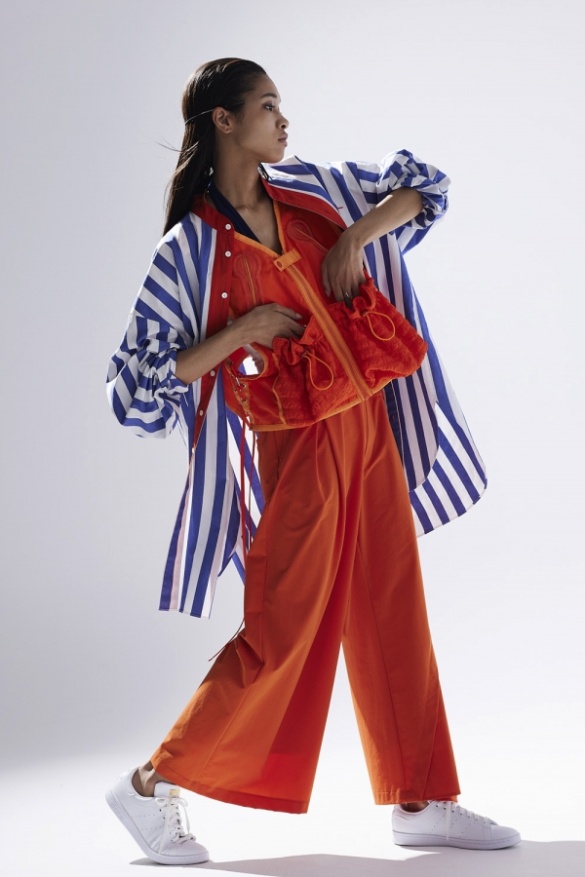 Orange parachute vest and trousers with bold nautical stripe jacket. Megmiura.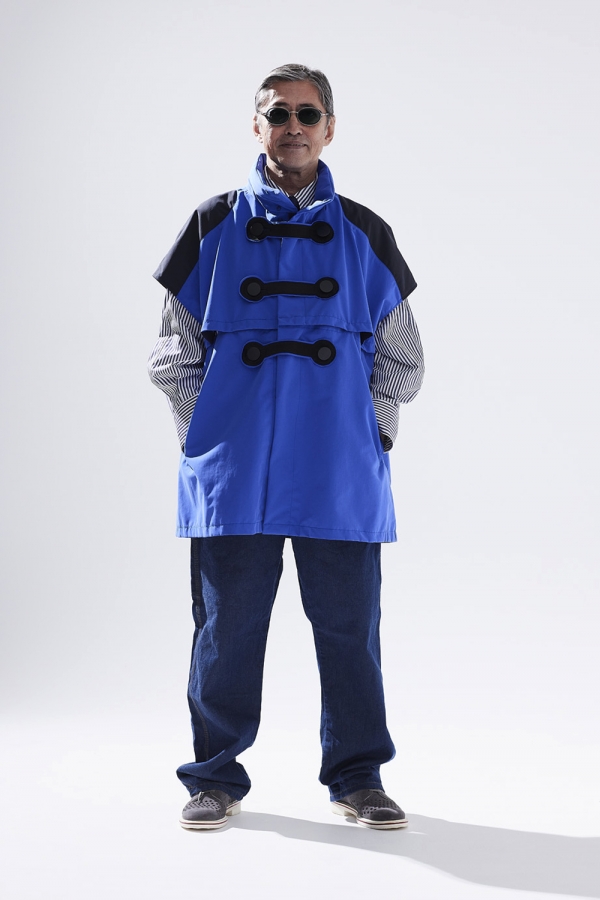 For men and women, outerwear that rocks. Megmiura.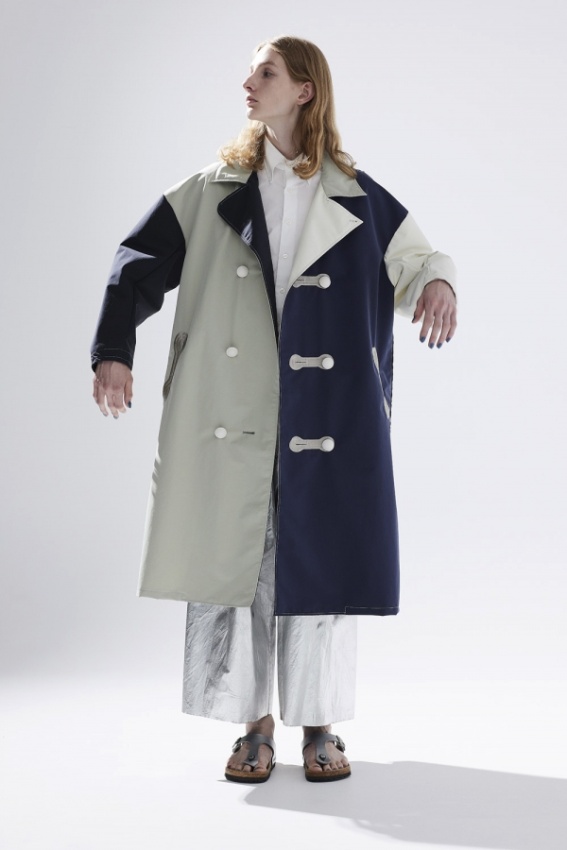 Color blocking for a must-have trench. Megmiura.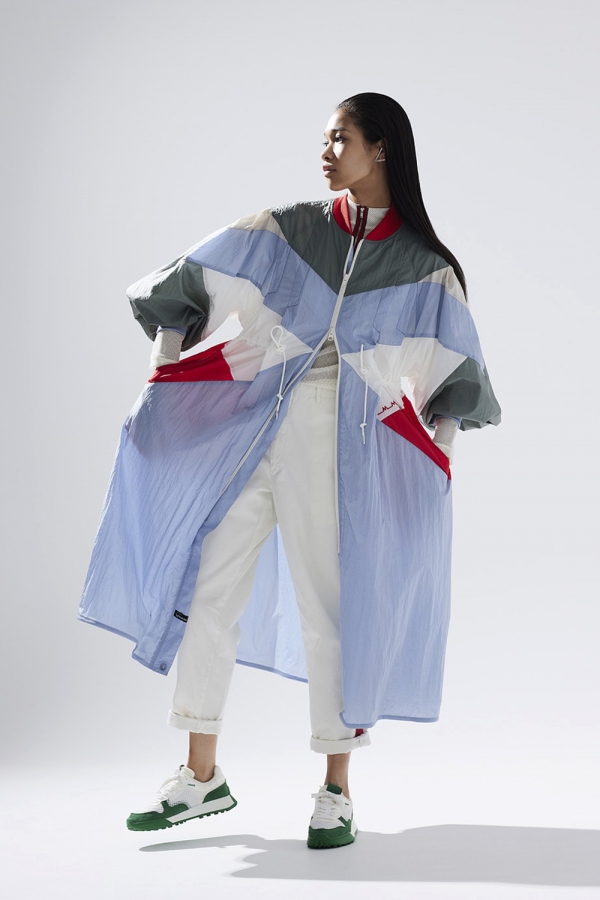 Let it rain! Megmiura. Watch the runway show here.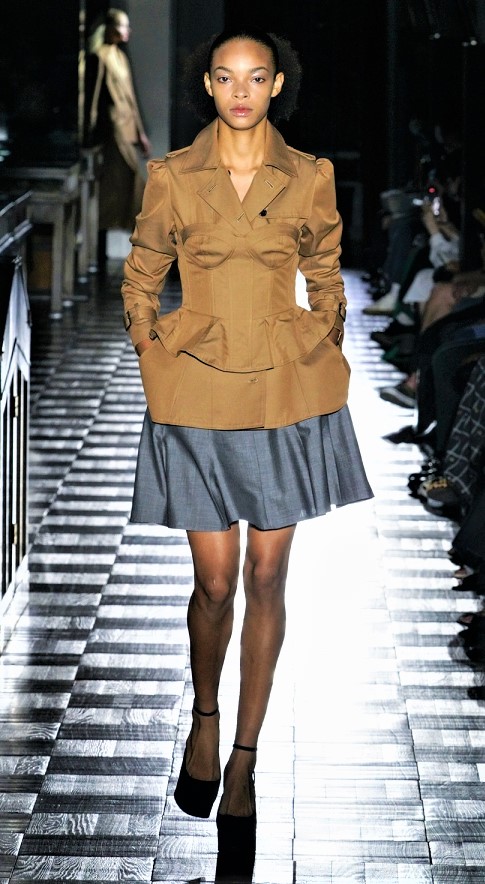 Sophisticated tailoring and modern silhouettes. Ezumi brand.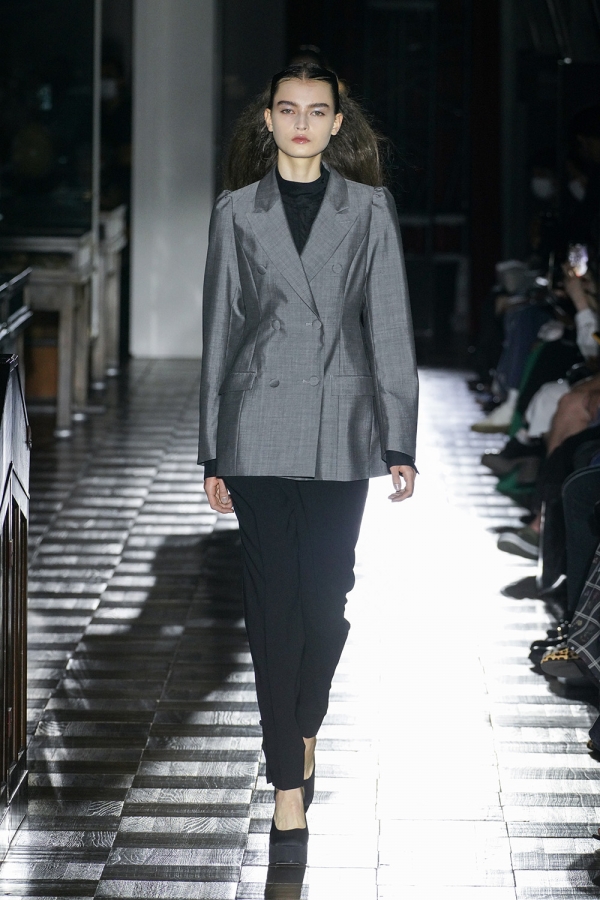 Sleek double breasted silver jacket with black trousers by Ezumi.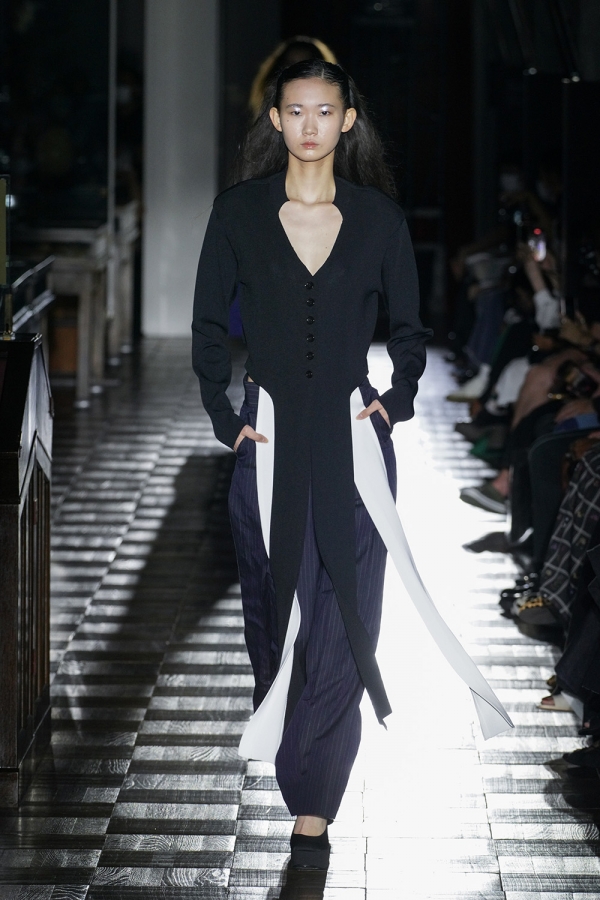 Striking flowing top with long swinging panels, Ezumi.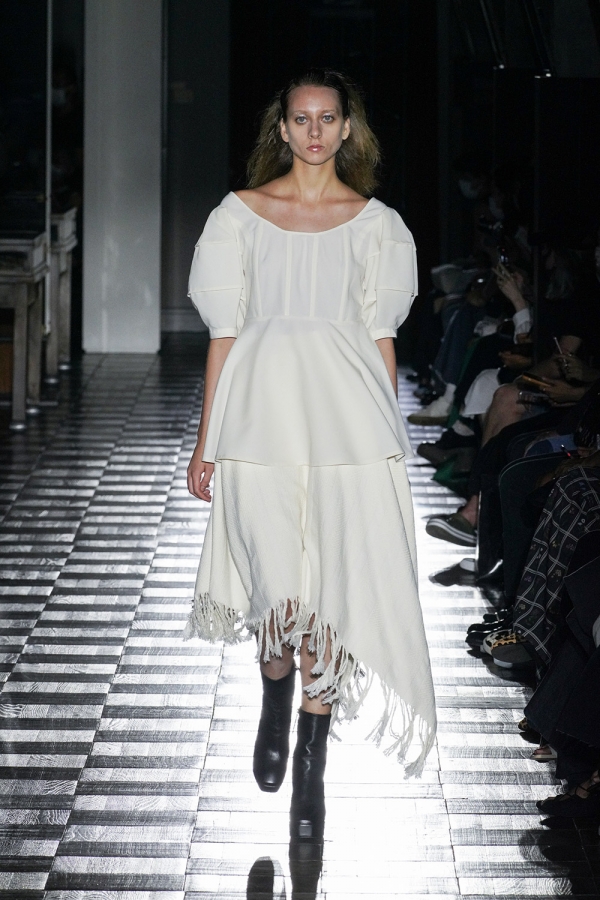 Delicate peplum puff sleeve top over an asymmetric fringed skirt. Ezumi.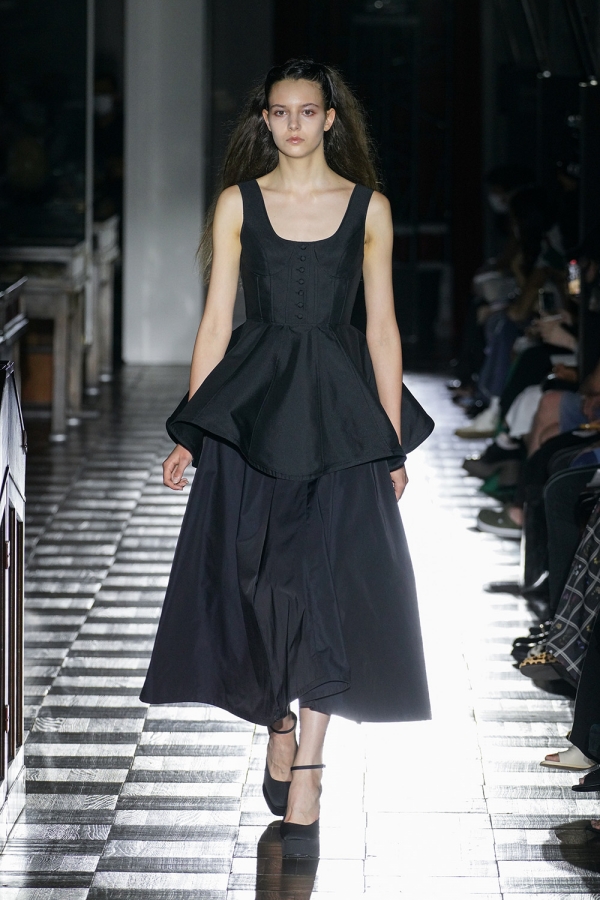 Full peplum top with midi length skirt creates sophisticated elegance. Ezumi.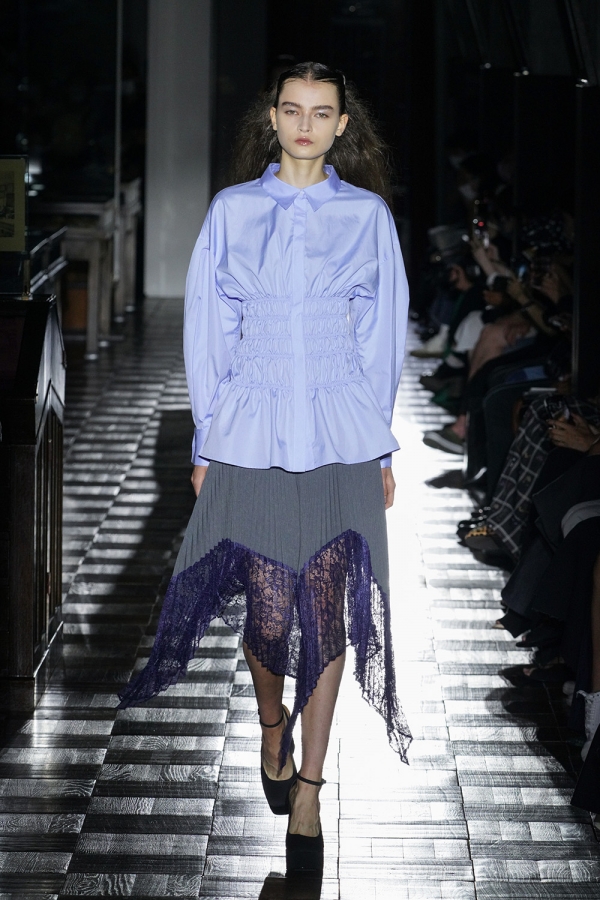 Flattering smocked blouse coordinated with hanky hem pleated skirt, trimmed in navy blue lace. Award winning designer Yasutoshi Ezumi graduated from the Central Saint Martins art school in London, England and has worked as an assistant for Alexander McQueen, among many other distinctions. He launched his Ezumi fashion brand in 2010. Watch his 2023 Spring/Summer runway show here.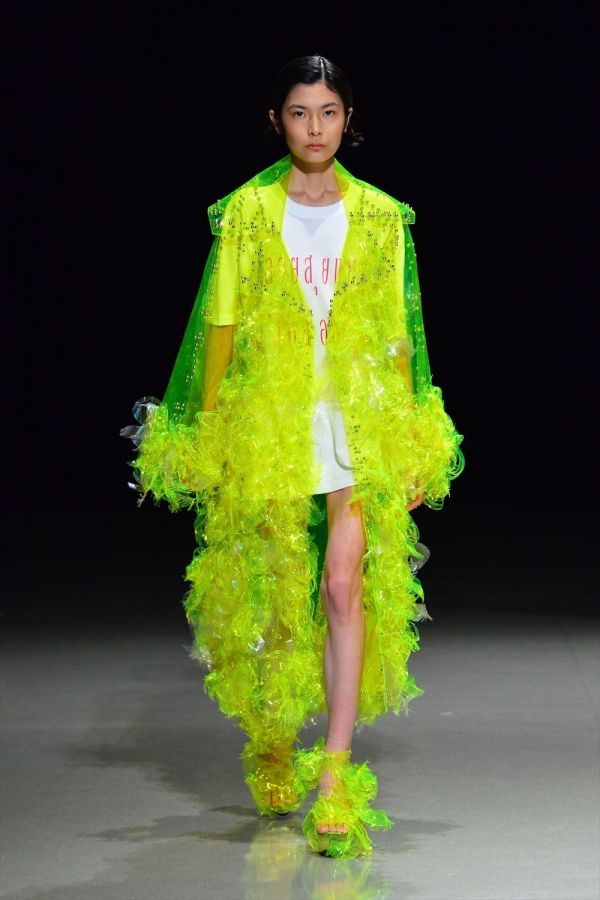 Ablankpage brand is a unisex label featuring cutting edge gender neutral apparel.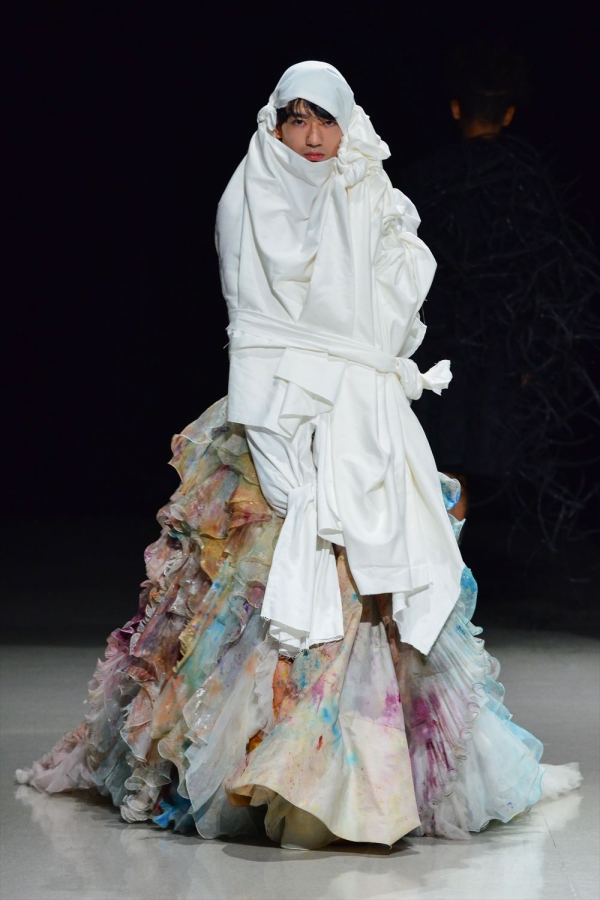 A color dyed tiered skirt with a confining tied top. Ablankpage. Designer Larprojpaiboon Phoovadej, born in Bangkok, Thailand has won a number of major fashion awards, including the 56th National Fashion Design Contest, International Award, 93rd Soen Award, and the 2020 LVMH DARE Tokyo in 2022.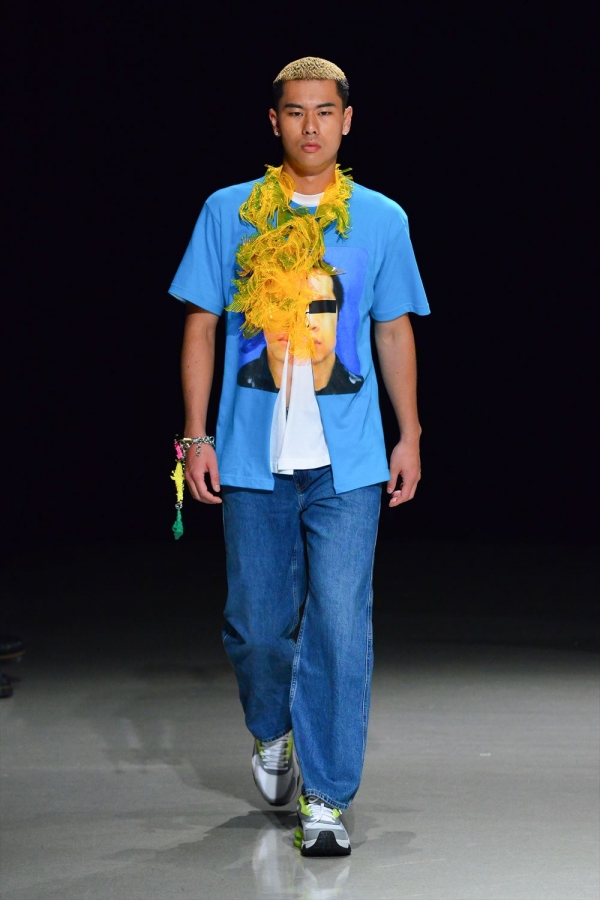 Bold imagery is a cornerstone of the Ablankpage brand.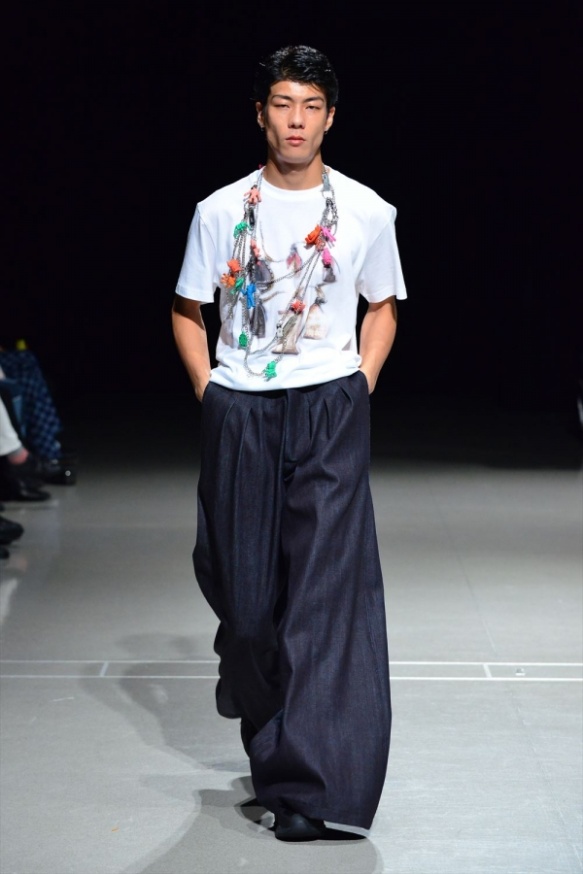 Wide denims for men and women are definitely uptrending. Ablankpage.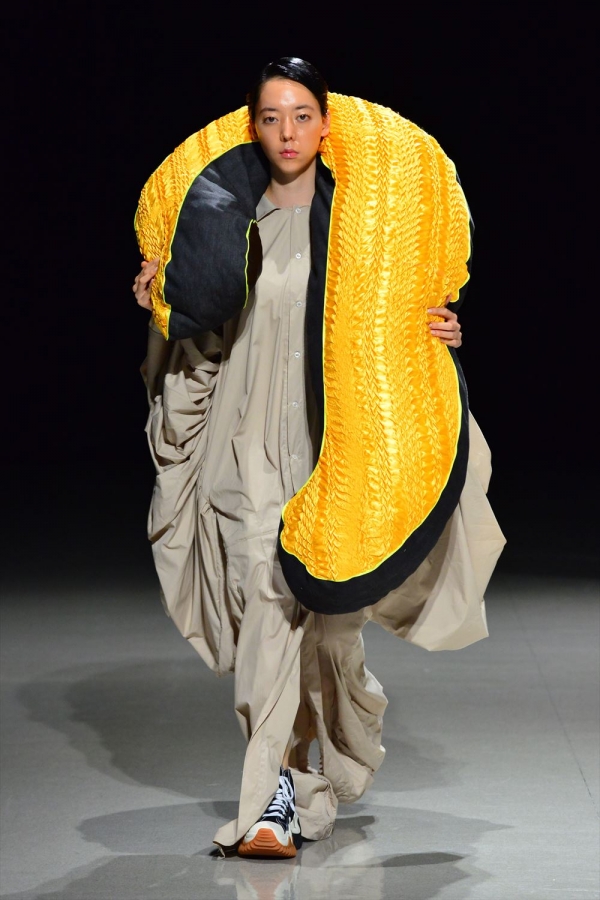 A wrap, a colorful boa or a cozy take-along pillow? Ablankpage.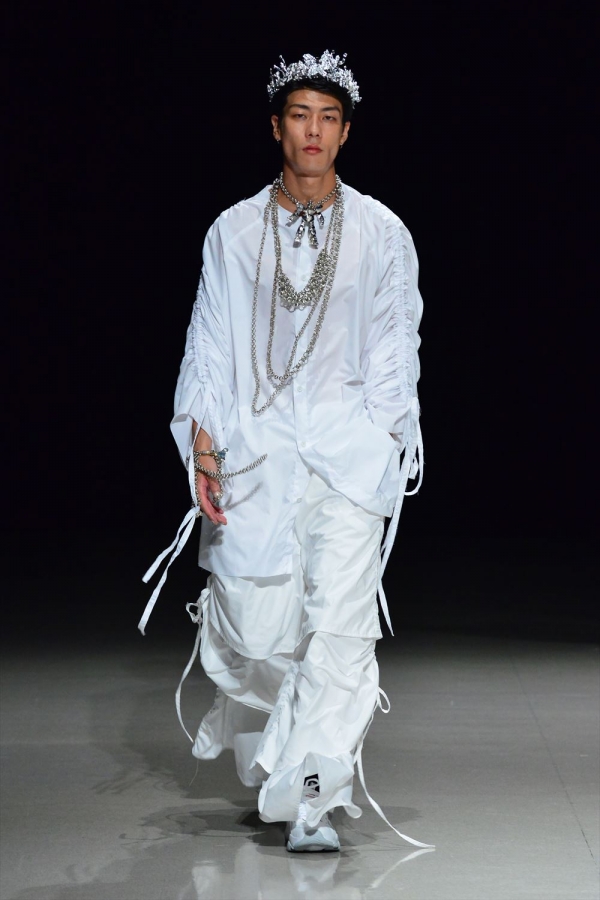 Ruched, tiered and tied, this ensemble is all about texture. Ablankpage.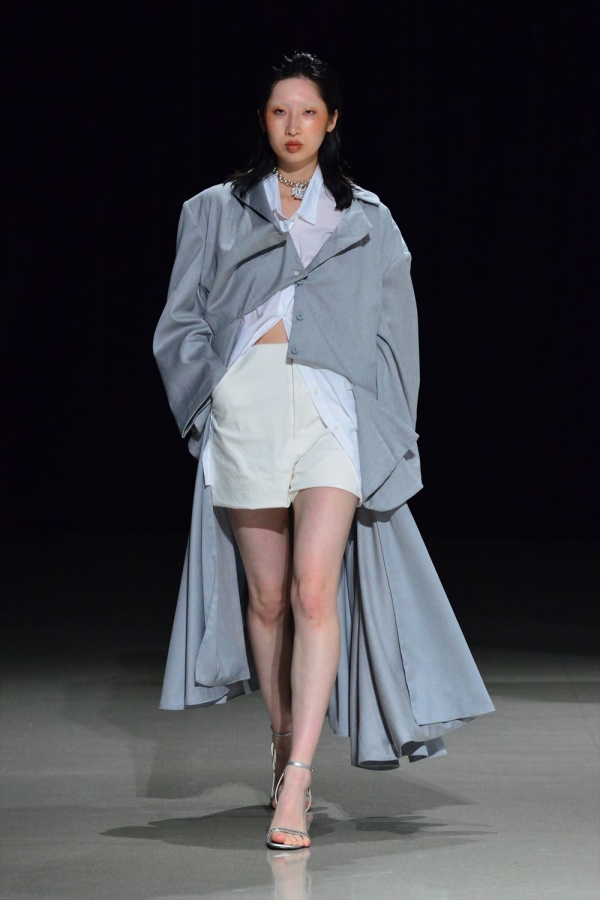 Ablankpage. This smashing grey coat could work with anything in your wardrobe.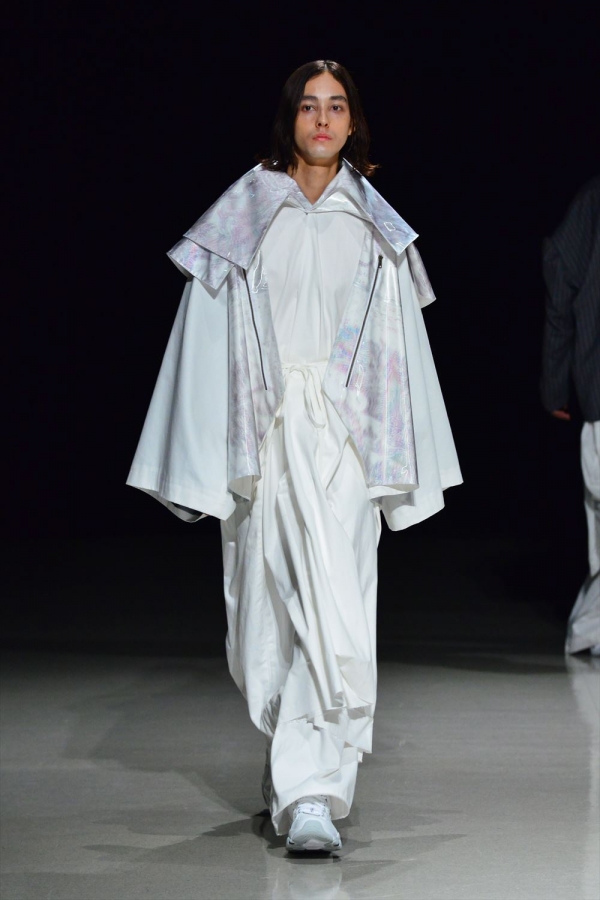 At last! The swashbuckling Musketeer collar is back! Want more? Watch the Ablankpage Youtube runway video here.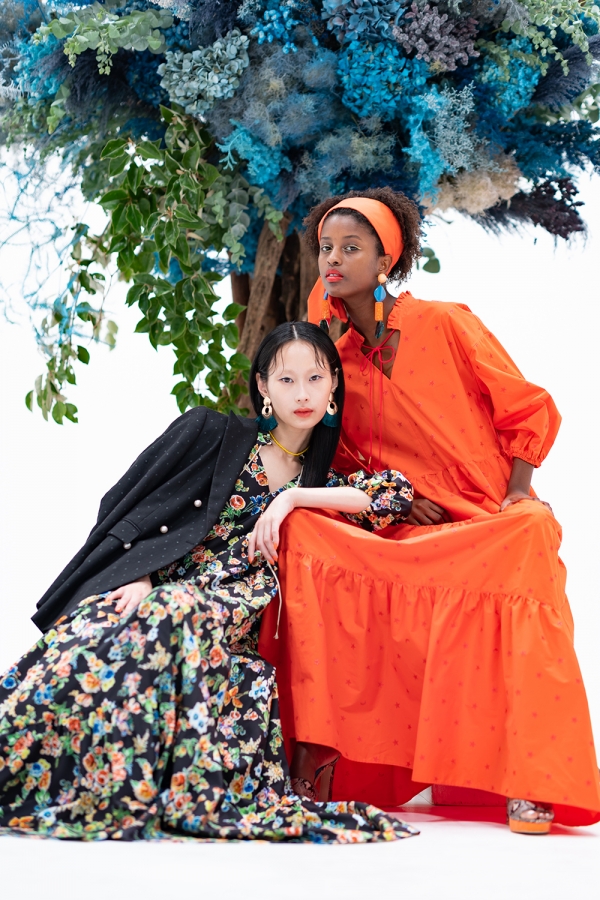 Lady like apparel by Wataru Nakazono, designer of the Chono brand was winner of the 2018 Tokyo New Designer Fashion Grand Prix.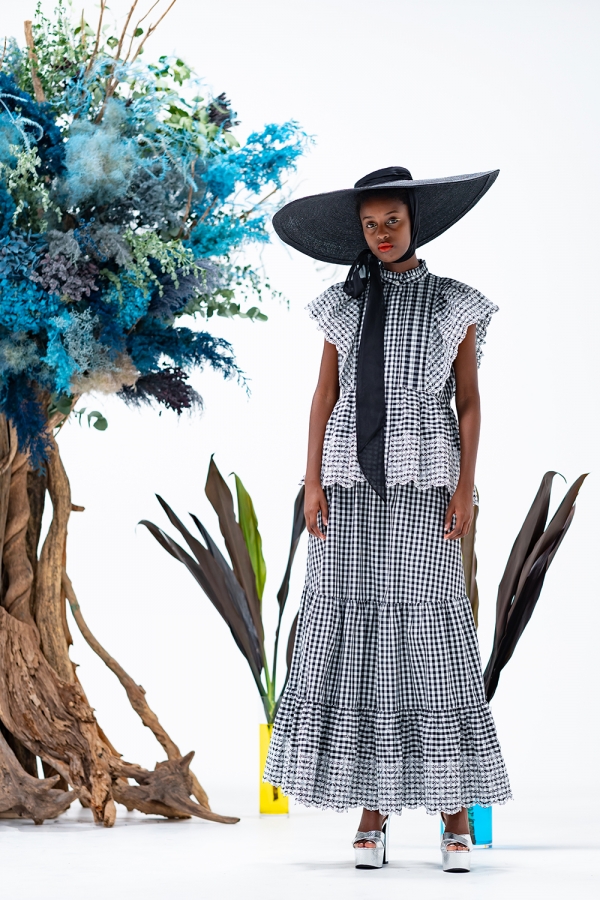 Gingham and lace with a Southern Belle vibe. Chono brand.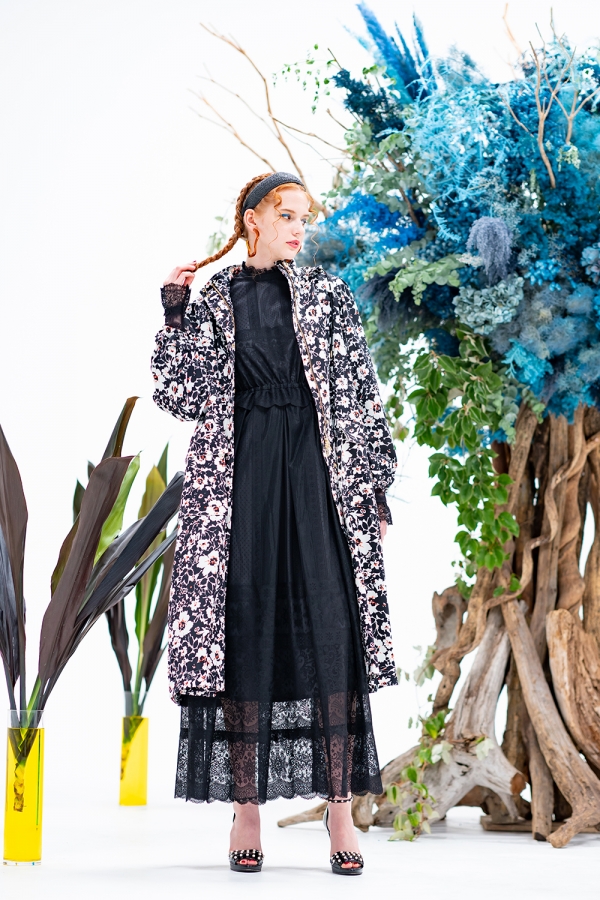 Sweet combination of florals and lace. Chono.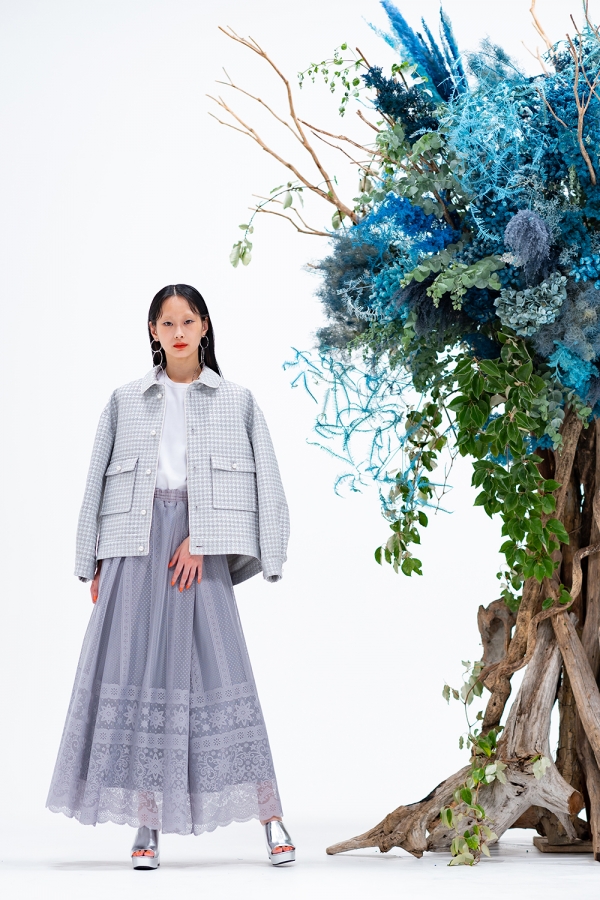 Chono. Dusty lavender patch pocket jacket with coordinating lace skirt. Simply charming. Watch the Youtube video to see all the summery runway looks.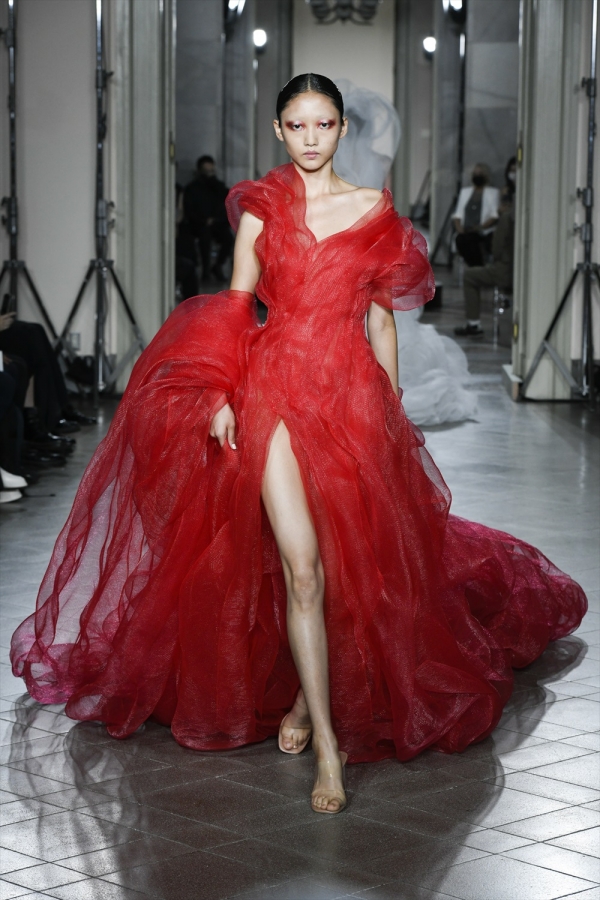 The lady in red. Lever Couture crafts bespoke formal wear for special occasions when all eyes need to be on you. Lever Couture.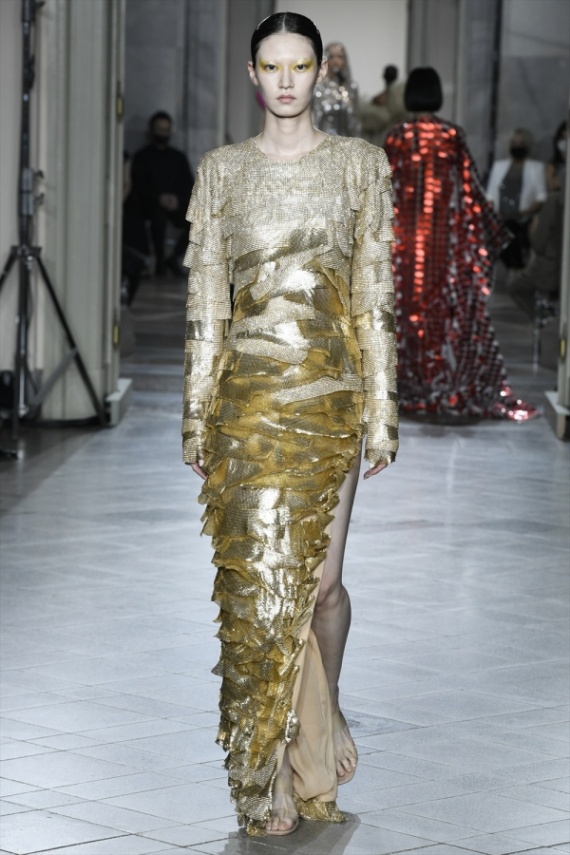 Wrapped in precious silver and gold. Lever Couture.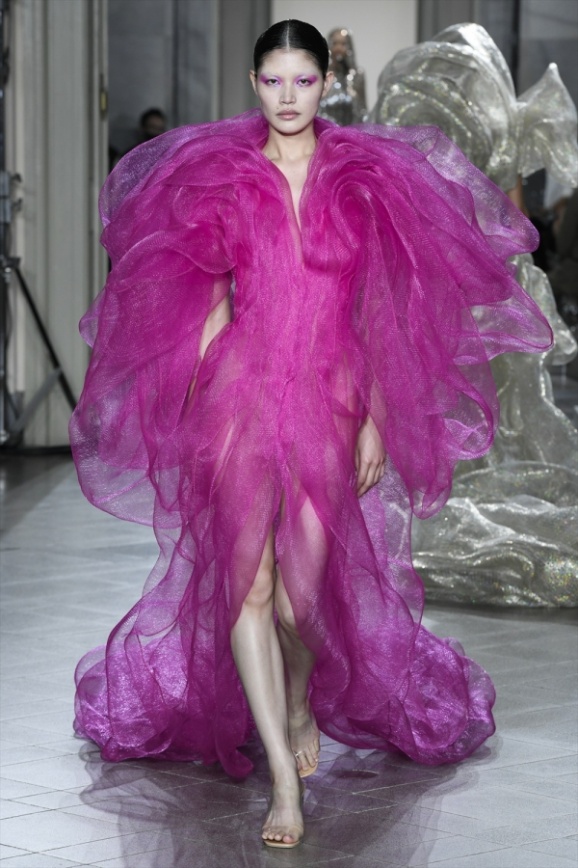 Rich fuchsia gown makes a diaphanous entrance. Lever Couture.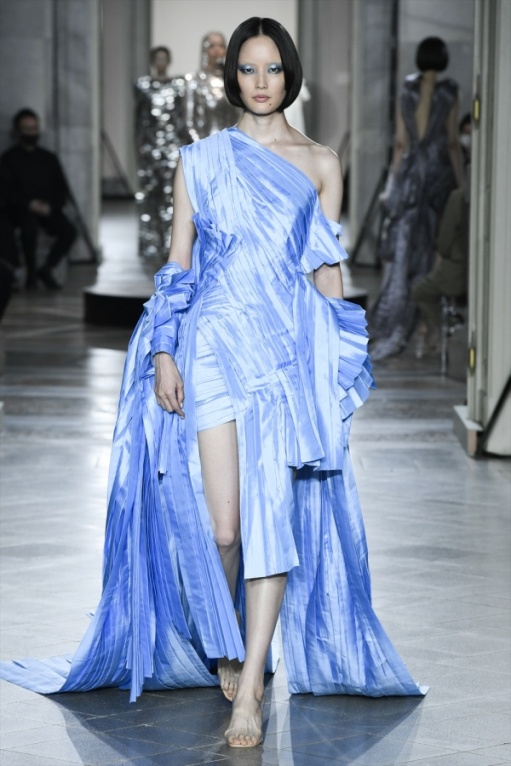 Baby blue one shoulder gown seems to shimmer. Lever Couture.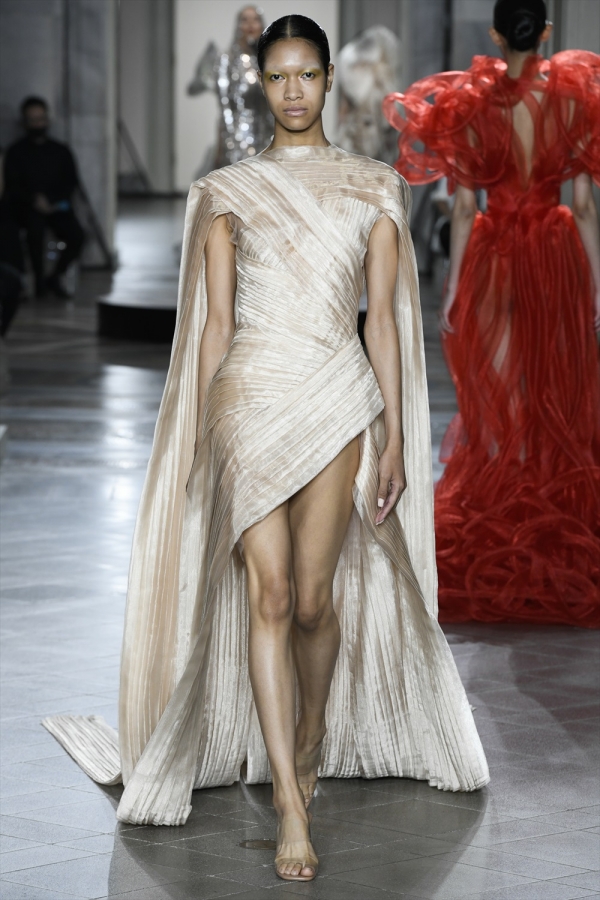 A golden goddess gown by Lever Couture.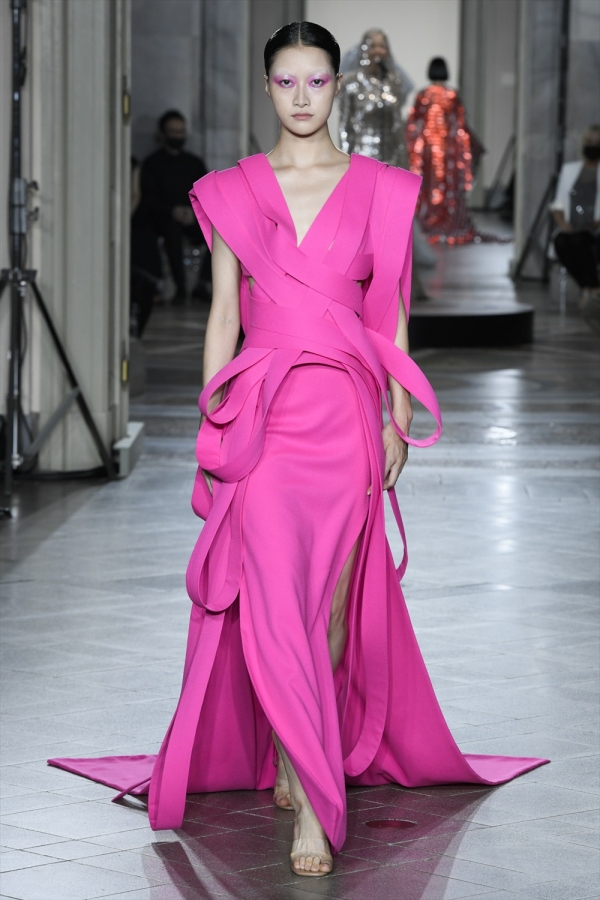 Wrapped in the prettiest of pinks. Lever Couture.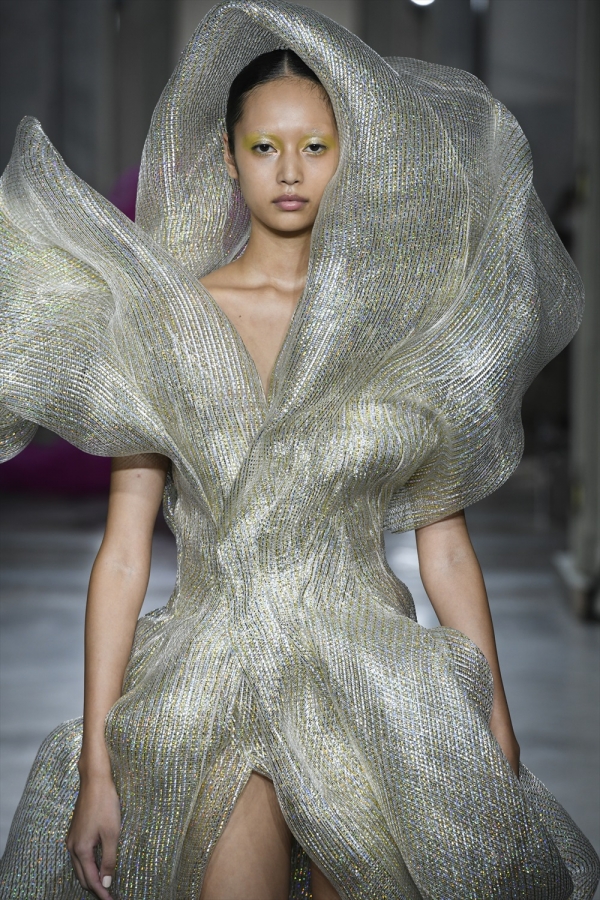 Shining pewter fabric is molded to create figure hugging clouds that seem to embrace the model. Lever Couture.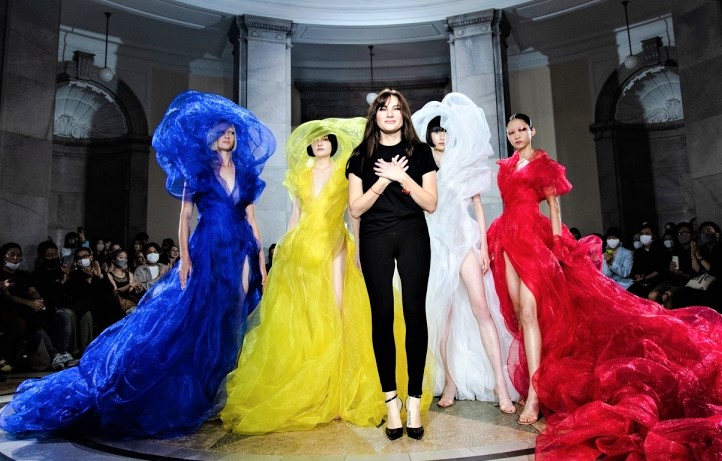 Ukrainian fashion designer Lessja Verlingieri is the visionary creative director of Lever Couture. She crafts fantasies of bespoke apparel for her devoted clientele. Watch her breathtaking runway show here.